Surgically Clean Air At Our Office
We believe air quality is a matter of life and breath.
At Complete Health Dentistry of Portland, we are committed to the safety of everyone, and we are going above and beyond the latest recommendations from the Centers for Disease Control and the National Institutes of Health. As one of the first users in NE Portland of Surgically Clean Air purifiers, we are sterilizing the air and eliminating airborne particles that float in the air (bio-aerosols) before, during, and after dental procedures--ensuring the health and safety of our patients in the new COVID-19 world.
Dental Office Air Quality: What You Don't Know Can Harm You
Let's face it, dental offices are high traffic areas, and daily interactions with patients during healthcare treatment can and often will introduce bacteria, viruses, and fungal organisms into the air. The ultrasonic instruments we use for hygiene therapy, along with restorative dental care, create bio-aerosols that can contaminate the indoor air and increase the unhealthiness of the dental office. These pathogens, including the coronavirus, can stay airborne for hours, even days, unless precautions are taken. When you walk into any healthcare facility, you should feel confident that you are in a safe, clean environment where you will only become healthier. During care at your dental appointment, when your mouth is open for long periods of time, you need a guarantee that the area you are in is clean and safe for your entire body. We are providing our patients with that guarantee with our new air purifiers, so you can breathe a (clean) sigh of relief during your appointment.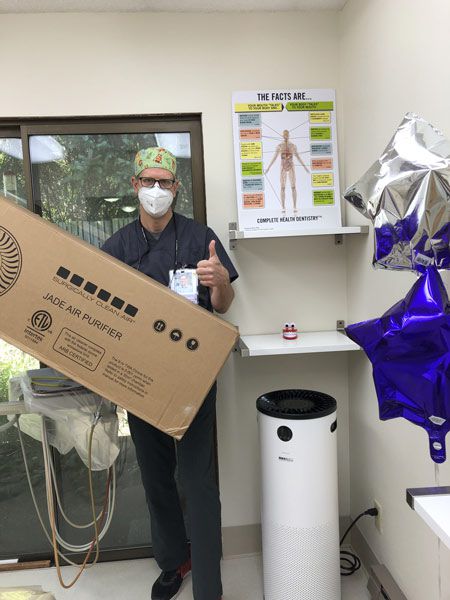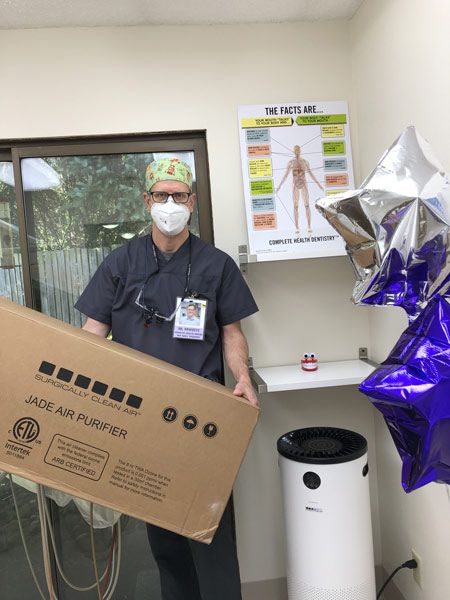 Why Surgically Clean Air?
This system isn't simply an air filter—it destroys pollutants, germs, and other damaging toxins
Dental procedures inadvertently generate aerosols, containing organisms and debris from each patient's mouth, and these can be harmful to everyone present in the clinic. Hazardous bio-aerosols created during dental procedures can be significantly reduced using an air cleaning system. By installing the Surgically Clean Air (SCA) Jade units in every operatory, we are able to filter and sterilize the air in each room continuously every ten minutes.
6 Stage Filtration & Sterilization Process
Many air filters have one filtering platform. The better ones have two or three. Surgically Clean Air's (SCA) purifiers use multi-stage air purifying technologies that work together to clean, purify, and re-energize the indoor air. The six (6) stage filtration system captures viruses, bacteria, dust particles, pollen, volatile organic chemicals (VOCs), gases, mold, allergens, odors (like formaldehyde and smoke), bio-aerosols, and many other pollutants that are found in the inside air in workplaces. The filtered air is then run past a powerful UV C+ light, which kills 99.99% of all microorganisms before it is returned to the room. The negative ion generator makes indoor feel more pure, clean, and energized to help combat fatigue.
Bottom Line: Healthier Air Equals Healthier Patients And Team Members
Microbial air pollution is a real health issue, and this is where technology helps us make a better, healthier practice. Air purification systems can play a role in significantly reducing transmittable bio-aerosols. With these out of the way, we are able to offer each of our patients a truly safe and healthy environment in which to receive the best dental care possible for you and your family.
We invested in a Surgically Clean Air system because we believe that paying attention to the quality and purity of the air in our office creates a win/win situation for everyone.
Complete Health Dentistry of Portland's Commitment to a Clean Practice
Every day, our staff diligently sterilizes the tools we use, the chairs our patients sit in, and our entire office. With our Jade Air Purifiers, Complete Health Dentistry of Portland will also have medical-grade, surgically clean air. No matter the time of year or the infections spreading in the Portland area, you will always have clean dentistry that you can trust at Complete Health Dentistry of Portland!
If you have any questions about our health and safety standards, or simply wish to know more about our practice, please do not hesitate to
call our office